Insulation plate TTP
We would like to inform you that we have add to our insulation program new product.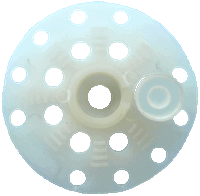 Insulation plate TTP. Diameter is the same as our insulation plugs - 60 mm.

Standard packing in carton per 500 pcs.
Our insulation plate can be used with chipboard screws with diameter 5 and 6 mm and also with windows frame screws 7,5 mm diameter.
Price you can find in pricelist which is for download here on our web pages.
If you need samples please contact us so we can send it to you.
Radek Truhlář